Business &
Workplace
Security
Lockdown
Systems
Lockdown and protect customers and
employees with the LockOut Company
SmartBoot System
Responsible Lockdown Systems and Planning for Businesses & Workplaces
Places of business are no strangers to the necessity for lockdowns and the tragedy of violent incidents. From disgruntled employees to seemingly random acts, the places we visit to work, shop, and play can become dangerous if a threat targets them. By protecting workplaces large and small with a lockdown system like the LockOut Company SmartBoot System, you can provide powerful door barricade protection, facility planning with easy-to-understand visual keys, and alerts with visual and auditory indications that provide your occupants the chance to protect themselves, while giving police dispatch important information regarding a lockdown at your facility.
Business & Workplace Statistics
Below are the statistics related to lockdowns and shootings on business and workplace locations.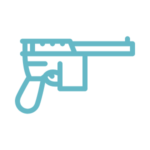 Active shooter incidents between 2000 – 2018.
Workplace homicides between 2013 – 2017.
How the lockOut System Works
The LockOut SmartBoot System combines our physical door barricade, The Boot™ and our patented Smart System as well as our Highly Reflective Rapid Response Placards and Ballistics Shields to create a comprehensive residential lockdown and security system. With these components fully integrated, the SmartBoot System has the ability to:
Comprehensive Building Security
The LockOut SmartBoot system is comprehensive, effective, and easy to activate if a school lockdown occurs. View the video below to see the LockOut SmartBoot System in action.