Residential
Lockdown
Systems
Lockdown and protect your residential buildings with powerful door barricades and connected Smart System technology
Protect Your Tenants
and Their Families
Residential buildings are as varied as the people who live in them, but one thing is certain, protecting those buildings with a lockdown system like the LockOut Company SmartBoot System adds layers of protection for your tenants. The SmartBoot System can adapt to nearly any facility, whether you're trying to protect a single building, or a sprawling condo complex. Keep your tenants informed of any lockdown in the area with visual and auditory alerts, and ensure first-responders are always alerted to an issue in your building with our mobile and dispatch applications. Use The Boot™ door barricade to reinforce interior doors and make a near-impenetrable safezone inside your unit or lockdown the entire building at key entry points if danger is identified nearby.
Below are the statistics related to active shooter incidents in residential locations.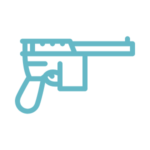 2000 – 2018 4.3% (12) shootings out of 277 in 8 different location categories.
How the lockOut System Works
The LockOut SmartBoot System combines our physical door barricade, The Boot™, and our Highly Reflective Rapid Response Room Placards, with our patented Smart System to create a comprehensive school lockdown and security system. With these components fully integrated, the SmartBoot System has the ability to
Comprehensive Building Security
The LockOut SmartBoot system is comprehensive, effective, and easy to activate if a school lockdown occurs. View the video below to see the LockOut SmartBoot System in action.