Hesperia Community Schools Become Safety Leaders With LockOut System Installation
Hesperia Community Schools, a leading public school system in Michigan, have announced the installation of the LockOut SmartBoot System throughout their district.
The LockOut System, developed in Michigan, pairs physical room entry deterrent devices with Bluetooth technology to create a comprehensive building safety system. The system is designed to keep students and staff safe in the event of a school lockdown.
"Parents just want their kids safe, in a positive school environment. Students want to feel safe too, and safety comes first," said Vaughn White, Superintendent of Hesperia Community Schools.
Designed to enable deployment that even a child can manage, The LockOut System greatly reduces the possibility of human error through automated alerts, visual and audio lockdown signals, a mobile application, and direct communication with law enforcement through a dispatch application. The system also detects gunfire and can automatically initiate a school lockdown when a threat is present.
Keeping students and staff safe are clear priorities for White at Hesperia Schools. White hopes they never have to use the system, but now that it's installed, he said students feel much safer at school. "We've never had a system like this before," said White. "Our lockdown planning and procedures have changed significantly. What better than to be able to have the system itself warn you to deploy versus relying on human capacity of an announcement over the PA. There's so many fail safes that deployment happens quickly and efficiently to help keep everyone as safe as possible."
By reducing the possibility for human error and increasing the chances that teachers and students can lockdown their rooms effectively, Hesperia Schools has created a safer environment for their students. While both groups hope the system will never require use, they feel better knowing they are in a safer position if a lockdown is ever necessary.
The LockOut Company is a leading provider of school safety systems in the United States and developer of The LockOut SmartBoot System. For more information contact us at info@lockoutusa.com.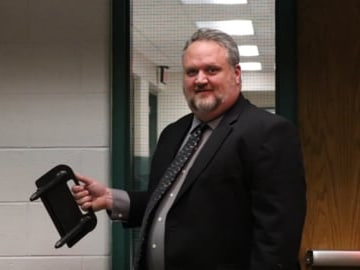 "Parents just want their kids safe, in a positive school environment. Students want to feel safe too, and safety comes first."

– Vaughn White
Superintendent, Hesperia Community Schools